The 2014-15 academic year began with a third year of learning tools!  National Baking Co. packed and distributed 3,000 boxes which were delivered island-wide in September. It only took four days which was a record best. Distribution started almost immediately which saw 2700 basic schools and 130,000 children benefited from this year's tool kits which came complete with the Crayons Count Curriculum Guide and heavily subsidized paper from the Jamaica Gleaner. Check out our blog post Boxes, Boxes and More Boxes for more details.
We had an another major first this new school year. In December, Crayons Count was invited to a Parent's Day Workshop at St Francis Primary & Infant. All the parents were open, helpful and eager to take part in ALL of the activities. They had to make manipulatives from cartridge paper, make their own play-doh and create drawings using a crayon, paper and their feet. You can't say Crayons Count is boring.
See photos here
In January, Fundaciones Limited invited us on Transportation Day to discuss the lorry and show all the children what the learning lorry was about. It was a blast.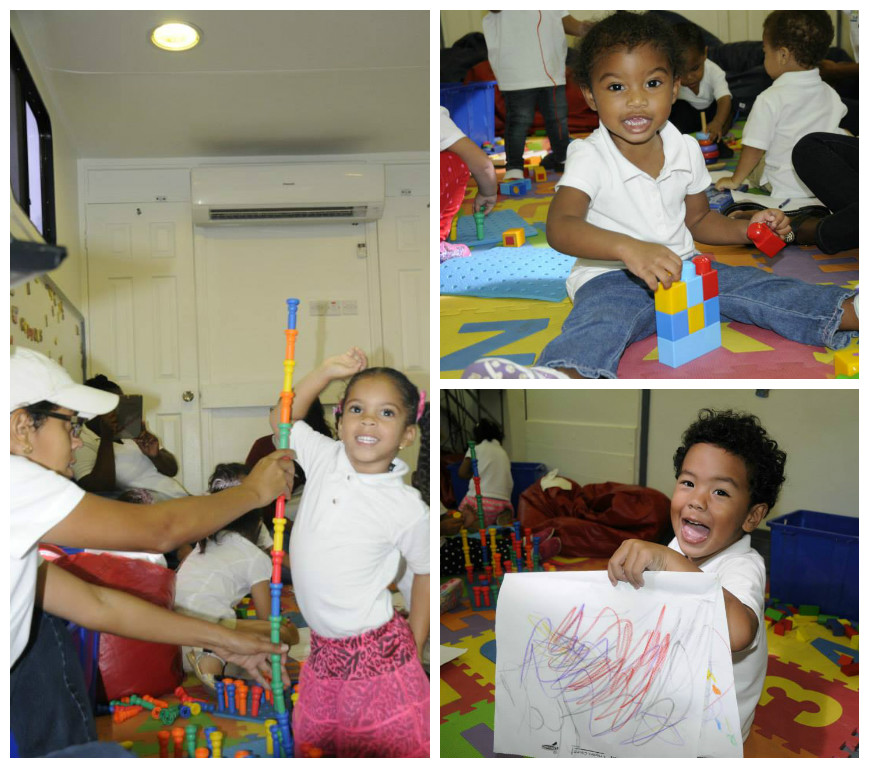 For more photos, check out Fundaciones Limited – Learn the Fun
They say time flies when you're having fun so it was no surprise when Read Across Jamaica Day was upon us again. May 2014 saw us reading to the bright sparks at the Lincoln Early Childhood Educational centre.
Check it out here
For Child Month (May), the Crayons Count team travelled all across the island as we did not one, not two but three events during Child's Month. We would like to say it was hard work but when you see a face like this with a stacking tool, it makes it all worth it.
We went to Hopwell ECI for Children's Day and loved every minute of it.
See all the photos here.
Tiny Tots Learning Center was next. We even got a wonderful good-bye at the end of the day.
More photos here.
Epsom Health & Wellness Fair 2015 was our last event in May and we didn't know who was more excited, us or the children. Pegs as hair clips? Yes, please.
Want to know more? Look at all the photos here
Summer School 2015 saw the learning lorry at the Mustard Seed Community and it was another amazing summer. We emphasized certain early childhood themes such as Self Esteem and Manners in the lorry which saw the children connecting with the volunteers. We even had our field trip to Hope Zoo which saw us meeting Lucas the Lion who wasn't too happy to see us but everyone still had a great time. The photos speak for themselves.
For more photos of Crayons Count Summer School 2015, see our Facebook album here
Until next year!