Crayons Count learning kits are comprised only of recommended learning tools for specific developmental objectives that are age-appropriate.
In 2012, the Early Childhood Commission (ECC) recommended 13 categories of resources:
Crayons, Books, Balls, Blocks, Play Dough, Paper, Puppets, Puzzles, Paint, Paintbrushes, Glue Sticks, Scissors and Manipulatives (Lacing Tools, Shape Sorters, Stackers, Peg/Pegboard Sets).
According to the Early Childhood Commission (ECC), here are examples of what children will learn….
Crayons, Play Dough, Paper, Scissors, Glue Sticks, Paint, Paint Brushes:  Children develop sensory perception, hand-eye coordination, fine motor control, pleasure and satisfaction, to love of beauty in their own work and work of their friends, and self-expression.
Cube Blocks:   Children improve skills that will develop the small muscles in the hands and fingers and to improve hand-eye coordination and social interaction, team building skills and sharing. Children develops concept of size, shape, weight, space and number.
Puppets:   Children accept and assign roles for which they act out in a safe and trusting environment.  They select and pretend to be someone or something different from themselves and dramatize situations and actions.  They develop oral language and critical thinking skills, individual expression, cooperation and compromise.
Books:  Children express their thoughts and feelings through language. They absorb language by listening and imitating others. Children develop oral language, vocabulary, rhymes, listening skills, phonics, social skills, writing skills, reading readiness skills, recognizing letters, and good attitude about reading.
Manipulatives and Puzzles:  Children develop the small muscles in the hands and fingers, to improve hand eye coordination, problem solving and critical thinking skills. Children learn step by step, from concrete to visual, symbol and then abstract.  They are learning counting, number meaning and recognition, shapes, comparing, colours, one-to-one correspondence and addition and subtraction.
Balls:  Children develop large motor skills that strengthen and controls large muscles such as those in the neck, torso, arms and legs.  In addition children develop social skills with peers and adults, taking turns, creative expression and simple game rules.
In the copy below, have a look at tips and ideas to use the learning tool kit items. 
[gview file="http://dogoodjamaica.org/wp-content/uploads/2013/02/Supplmental-slides-2-TTT-1.pdf"]
The Crayons Count learning kit is fee of cost and is given to all early childhood institutions registered with the Early Childhood Commission. There is no need to apply. Check our list of Recipient Schools to see if your school has received a kit.
The tools have brought joy and fun to many children over the past four years. One look at these smiling faces and the difference is amazing.
Cecil Boswell Facey Basic School
Mona Common Basic School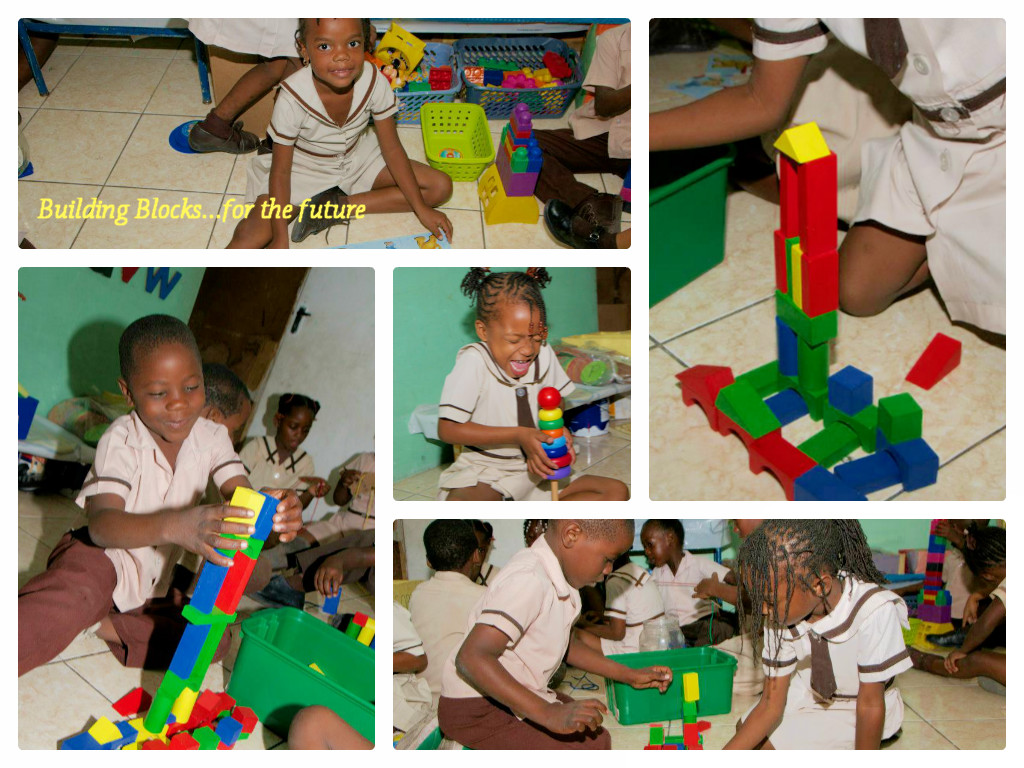 Burke Basic School
All Together Now!
Now you can get even more.
In 2013, Crayons Count embarked on a great project. Crayons Count developed the first ever 'Crayons Count Curriculum Guide'. A seventeen (17) paged booklet that was packaged into every learning tool box in the September 2013 school year, the guide provides ideas for activities using Crayons Count tools to meet Curriculum objectives set by the Early Childhood Commission.
The content for the guide was created by Crayons Count Early Childhood Consultant, Ms. Shaanii-Grace Robinson. The guide features fun and stimulating activities for early childhood fun. Click the link below for a copy.
Crayons Count Curriculum Guide 
[gview file="http://dogoodjamaica.org/wp-content/uploads/2013/02/TeachersTotsTools-revised.pdf"]
Forever committed to the children of Jamaica, Crayons Count continues to donate learning tools all across Jamaica. 2700 basic schools and 130,000 children benefited from tools donated in the 2013-2014 academic year and we plan to do it again for 2014-2015. Come join us on our journey to make crayons count!